Maroun Chedid: « I am eager to leave a mark in the Lebanese-Mediterranean cuisine »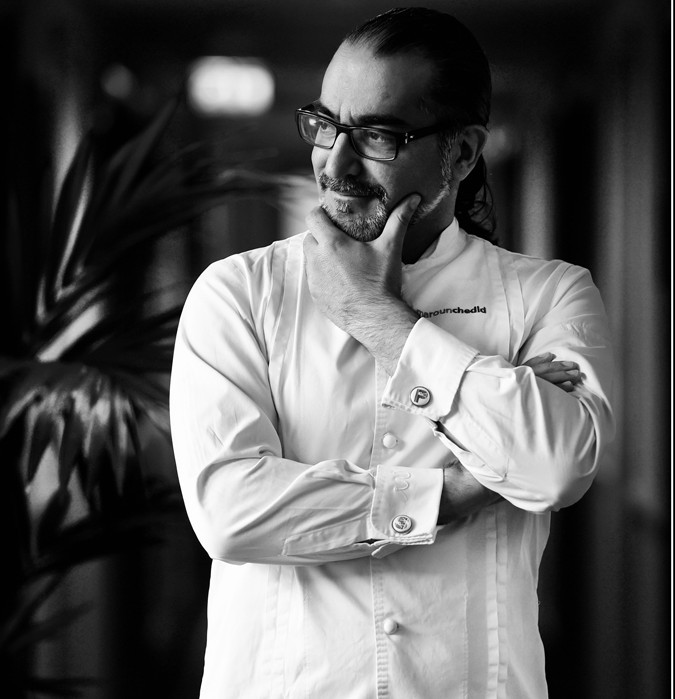 @Jeff Nalin
Chef, Tv presentor and wise businessman… Maroun Chedid juggles easily between all these labels. Born in Lebanon, he turned his passion into an art of living. He has revolutionized the Lebanese cuisine. Maroun Chedid will also be the sponsor of "Food in Sud", which will be held from the 24th to 26th of January 2016 in Marseille. An opportunity to make us discover exclusively his new line of Lebanese-Mediterranean gourmet products « by Georgette Maroun Chedid » inspired by his mother. Passionate, Maroun Chedid will undoubtedly leave his mark
Echos d'Orient : What motivated you to become a chef?
Maroun : My mother was the first person that motivated me to learn about cooking, and introduced me to my passion! I loved watching her forage for herbs, fresh vegetables and fruits from our garden. She had her secret recipes and loved to gather family and friends around a rich meal. I believe it was her joie de vivre and love for cooking in addition to the beauty of nature and all the Mediterranean has to offer that motivated me to become a Chef.
What does cooking represent for you ? And specially Lebanese food ?
Cooking is my life, it is my Passion. Lebanese cuisine is not only about food, but about how and who you share your meal with. Eating becomes an experience that brings together people. I especially love the positive energy and importance of sharing a mezze with friends and loved ones. For me this is very important!
What is the best cuisine for you? Why?
I don't believe in a best cuisine, but I do think that cooking is universal. For a cuisine to be labeled as great, it has to have the best products and ingredients. More importantly it has to be prepared in a good way, with the right methods and a great respect for the product.
What is the secret of your success?
Hard work , passion, dedication, and determination. I love what I do, and I am eager to leave a mark in the Lebanese-Mediterranean cuisine. This is what drives me to strive for perfection and achieve success.
« My mother has been my culinary muse since the start of my career »
How do you manage being a TV animator, businessman and a chef?
Easy, I work 26hrs/24hrs, Organization and focus is key!
On the website ladepeche.fr, you said « we are experiencing a culinary revolution ». What do you mean by « culinary revolution »?
In the Lebanese-Mediterranean cuisine, we have a lot of recipes and cooking traditions that have been passed on by our forefathers. I think that the young generation of Chefs is leading a 'revolution' by, taking the cuisine of our parents and grandparents, and reinterpreting it to match our modern lifestyle. Inspired by our knowledge and inline with modern-day trends, we are introducing new ingredients, spices, and techniques to these old traditional recipes, creating the new Lebanese-Mediterranean cuisine.
Who inspired you the most during your career?
My mother has been my culinary muse since the start of my career. During Food'in Sud, I will be launching a new line of Lebanese-Mediterranean gourmet products that are inspired by her and I invite you and your readers to visit our booth and get to know, Georgette by Maroun Chedid.
For you, cooking is an art can you tell us more about that?
Cooking for me is an art, as it involves many details and a lot of patience. Juts like an artist, to offer a good meal you need to think about everything: the details, the cooking method and the presentation.
How do you imagine your future ? What are your projects ?
I am launching the line of gourmet Lebanese-Mediterranean products inspired by mother 'Georgette by Maroun Chedid' during Food'inSud. In July 2016, Maison Maroun Chedid will be open in Beirut and will include a restaurant, a cooking academy and a boutique.
M.M
Tags :
chef cuisinier
cuisine Libano-Méditerranéenne
food in sud marseille
talent